I painted this bird from photos and I was told it was a bunting. I don't know....The painting is small 8"x10" but I do like how he came out. Birds are fun to paint.
My Artist friend Laurie Pace is doing 100 horses in 100 days for $100. I have decided to do 50 birds for $50.00 in 50 days. I will start this challenge on June 25 and hope to do some fun birds.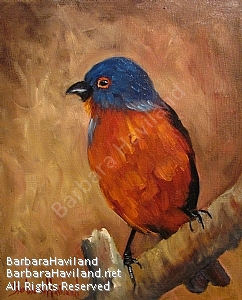 Title Eastern Blue Bird
Size 10"x8"
Medium oils on canvas
Purchase price is 100.00
The rest of my birds will be 50.00 and measure 5"x7"